March 18, 2016
Minnie's Blog
First off I want to say I really love my foster mom and dad. They pay so much attention to me. I especially like my foster mom. When she leaves, I run around all over looking for her.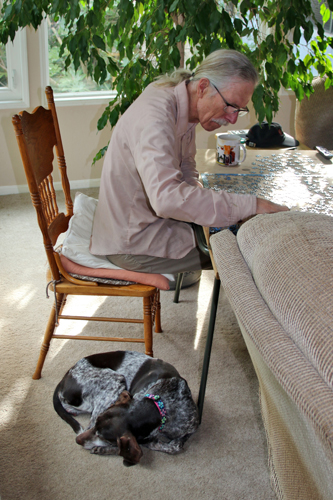 When I arrived at my foster home, I admit I was quite the wild child. You would be too if you had been cooped up in a shelter for a week or more and then had to stay at a vet for several days. I was so excited I leaped over sofas and tables and put my front paws on all the counters, dressers, and high places checking out what was on top. It was like I'd never been in a house before. If I could talk like people, I would tell them exactly where I used to live and how I must have been told to potty on grass or dirt. At first I did get a little mixed up and go potty in the house. I was just so excited! Sometimes I still forget; especially if it is raining.
I like my new name, Minnie. It is a good name, the lilt and emphasis fits me perfectly. I learned it right away because my foster mom played the name game with me. The best way to get my attention is to say my name in a happy way.
I have been in my foster home for a little over a month now and I am becoming quite the well mannered dog. I am good in my crate except when there is a lot of excitement going on in the house. The crate is in my foster mom and dad's bedroom where I sleep at night. My foster mom has been very patient with me and has consistently been reminding me I need to stay off counters and furniture (which doesn't make sense because Dakota, the dog who has been here since she was a puppy, IS allowed on sofas and beds). I listen to what my foster mom and dad tell me most of the time because I really like them.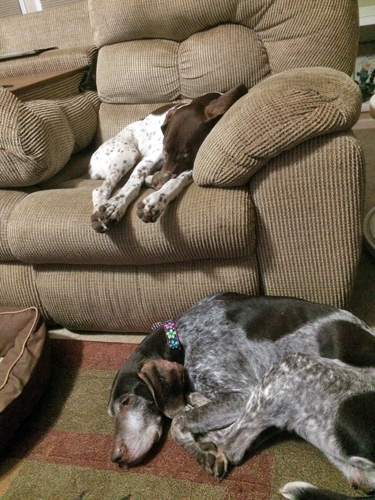 I like people a lot and try to do what they ask. I even let my foster mom and dad trim my nails while laying down on my side. That's what Dakota does. As it is, when I first arrived, my nails were so long I could hardly walk so I now know short nails are a good thing.
I really do like Dakota even though she can be snarky when I try to play with her. At first when she snapped at me I would tell her where to go. I have learned to keep my mouth shut now and when I play, I keep it to myself. Instead of playing with her, I carry toys around. And boy, are there a lot of toys in this house! Sometimes I pick up my foster dad's slippers and carry them off to a place where he can't find them. He really needs to learn to put them away. After all, slippers are very hard to resist. He's lucky I don't chew them.
The first walks my foster mom and dad took me on, I was one unhinged girl. I heard my foster mom tell my foster dad "It's like she is on LSD, like she has never seen much of the world to sniff and see all there is to discover." In the beginning, they took me on walks up a hill in a woodsy area. I was just too wild. Now I am walking in nearby neighborhoods (which works out good for my nails anyway). But maybe if I learn to be better with walking on a leash, I will be able to go back to that hilly path in the woods. I am working hard at this because that is the best place ever! There were squirrels to smell and bark at, logs to crawl under, tall grass to leap through and bushes to run around.
Oh and it is just possible I have a little hound in me. Have you ever seen a hound tree a coon? They practically climb the tree trying to catch it. I know this because I did some research on the internet. I have already climbed into two trees looking for the cats that live in the barn behind my foster home! You know, cats do look a lot like coons.
Then there are my table-side manners. In the beginning, I wanted to be as close as I could at the table when my foster mom and dad were having breakfast, lunch or dinner. I wanted at least one of their hands on my head while they ate. I was so persistent, I ended up having to stay in my crate until they finished eating. Now I have learned laying on a nearby rug is acceptable behavior. I don't need to be crated anymore while they eat!
I have to say the food here is like mush. My foster dad gives me mushy stuff because I don't like eating dry kibble much. My teeth are just too worn down. He thought if he softened it, I would eat it. Nope. I still didn't like it. Now he includes a couple of tablespoons of canned food (the really good stuff with gravy) or sweet potatoes. That's all it takes for me to gobble my entire meal down (most of the time). Does that make me a fussy eater or a spoiled dog?
I especially like mealtime perks my foster mom and dad have here! For instance, whenever they have French toast for breakfast, Dakota and I share the leftover egg mix. And, if one of the grandkids doesn't eat all their food, like a hot dog or a hamburger, guess who gets it later?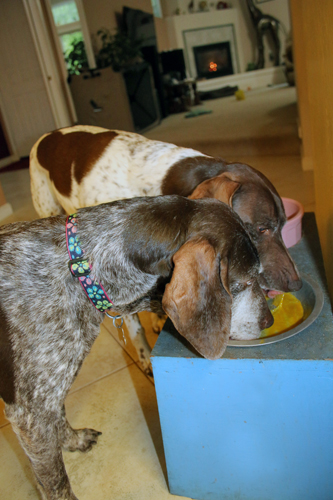 I really get excited when the grandkids come to visit. I love them. They are so much more cheerful than Dakota. And they really like me. I am really good about not jumping on them especially when they say 'off" to remind me. And I am also really good about giving them lots of kisses.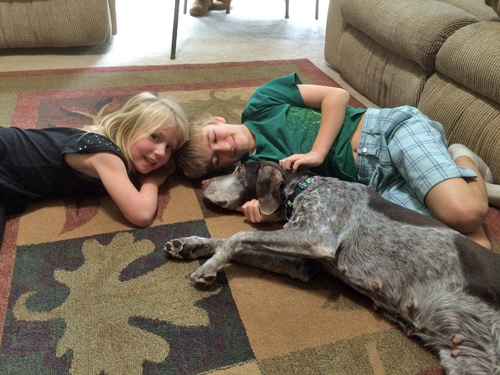 When I arrived in my foster home, I didn't know many words. I am learning more all the time. However I surprised my foster mom the first time I picked up something I wasn't supposed to have and she told me "drop it." I did. She was also surprised to find out I understood "leave it." What I didn't know (and I didn't know I didn't know) was what "sit" and "down" meant. I kind of knew what "wait" meant. My foster mom uses it a lot so I am understanding that word more and more when she tells me to wait.
It took me a long time to learn "sit' and "down" because at first I didn't appreciate treats. I was too busy trying to figure everything else out. Then one day, a light bulb went off in my head and now I get it. Treats are fun. When I sit on command, I get a treat. When I do a down on command, I get a treat.
Okay, so life has been good around here but there is one thing my foster mom and dad aren't so sure about. When we are out walking and I see a dog, I bark and leap at the end of my leash. I wish I could tell them why I do this. I am not even sure. I just know, when I see a dog, it does something to me and I have to bark—with all of my body and all of my voice (and it is loud). A really nice lady from Nor Cal GSP Rescue came to visit and talked to my foster mom and dad about this and how to work with me to learn how to act when I see dogs on walks. So that is what we are doing.
I have to say though I am making progress walking on a loose leash. It hasn't been easy to not rush to the end of my leash all the time. There are just so many good smells out there! I just don't get why my foster mom and dad don't want to take the time to smell the pee and the grass and the mud and garbage cans? I have figured out one thing though, the less I pull or stop to sniff, the further I get to go on walks. Oh you know how I said I bark at dogs when I see them. I forgot to mention I mostly do this when I see them out in the open. If they are behind a fence or in a house barking, I don't worry about them so much.
Since arriving in my foster home, I have become much more calm around the house even though I still have a tendency to get in the way when following my foster mom and dad around. I am trying to be more like Dakota. She walks nicely and is so calm and hardly ever jumps around. Of course she doesn't wag her tail all the time like I do. What is up with that?
I really love going out into the field and forest behind my foster home. There is a play structure to climb all over. There are cats to hunt for (they mostly hide from me by staying in the barn) and fences to look through to the greener grass on the other side. Dakota loves to run with me when she is not busy checking out the chickens. I sure don't know what the big deal is about those chickens. I have no interest in them. They are old and too slow for me.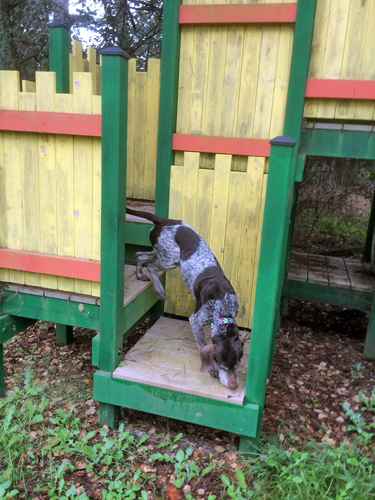 When I check out the wire fencing, my foster mom and dad keep a very close eye on me because I like to push my head through the holes or look for a spot to go under. Don't they know the grass is greener on the other side? They are always prompting me to leave that fence alone. I am getting better but I can still see that grass!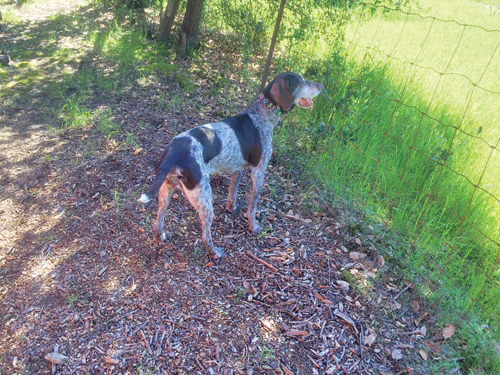 I am quite the snuggle girl. I love being inside a warm house snuggling up with someone who loves me and pets me. That and being outside smelling the roses (and the bugs and the flowers and the bushes and all that other stuff I already mentioned). Snuggling and smelling things are my most favorite things to do.

I love everybody and if you are my friend, I will be yours too. And I will follow you everywhere you go. Always!
October 4, 2014
August 31, 2014
July 30, 2014
July 19, 2014
April 3, 2014
November 16, 2013
November 7, 2013
August 19, 2013